Artful Smiles Dental Studio Offers Expert TMJ/TMD/Neuromuscular Therapy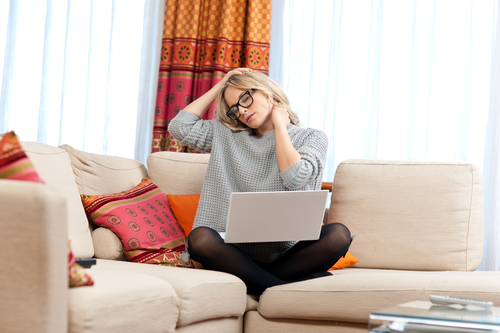 Do you experience jaw pain, neck pain, or tension headaches? All of these are symptoms of Temporomandibular Joint Disorder, also known as TMJ or TMD. Sometimes the symptoms can be so severe that the pain in the jaw limits eating or speaking.
Whether you have mild or severe TMD symptoms, it is best to talk with our experienced team at Artful Smiles Dental Studio right away. Seeking treatment will help by relieving the discomfort and pain, and the right TMD treatment plan can also help you avoid bigger problems in the future.
Causes of TMD
The causes of TMD vary depending on the person, and typically these symptoms are associated with arthritis in the jaw joint and/or teeth grinding. It has also been found that stress often plays a big factor in the development of TMD symptoms. When a person is carrying high loads of stress, there is a higher risk of teeth grinding which can lead to TMD. Stress can also cause the jaw muscles to tighten, and eventually those muscles become irritation because of the tightness.
TMJ Treatment Options
Most people find that TMD doesn't go away without a treatment plan, which is why it is important to schedule a consultation with our office to find a solution. Failing to implement an effective treatment plan can cause the symptoms of TMD to get worse. Eventually, TMD can lead to other dental problems such as cracked or chipped teeth because of the pressure.
Typically, TMJ treatment options are focused around a custom mouth guard that is worn at night. This mouth guard is known as a splint or a "neuromuscular orthotic appliance." When it is worn, it prevents teeth grinding and helps the jaw to relax while you are sleeping.
Other TMD treatments might include orthodontics to fix major bite problems, small dental adjustments to change minor bite problems, or physical therapy. In some cases, it is necessary to use cosmetic dental treatments to reconstruct the bite and eliminate the tension and bite problems.
Schedule a Consultation
It doesn't matter if you are experiencing minor or major symptoms of TMD; right now is the best time to seek treatment for the discomfort and pain that you are experiencing. At Artful Smiles Dental Studio we offer a variety of TMD treatments including neuromuscular therapy and we will gladly assess your individual situation to identify the best course of treatment for your needs. Contact us today for more information about the options that are available.